Join Rachel John on a
surfing adventure in South Africa
My name is Rachel John and in 2021 I went to South Africa to learn how to surf. Unfortunately this was during the corona pandemic and because of this I was the only guest staying at the surf lodge. So there was not much to do besides surfing. But to fill the days with awesome activities, I started making a fun weekly schedule together with the manager.
On social media I shared my experience and soon we found out that there was a lot of interest for a similar surf trip. After receiving thousands of messages, the manager suggested organizing surf camps with him. I really thought: Huh, why me? I had never seen this as an option myself. But if there's one thing I've learned from my first solo journey, it's that the best things come your way unexpectedly.
So I said YES to RAJO'S Surf Camp!
We're gonna do it…
Airport transfers
14 nights
Daily breakfast
9 times dinner
14 surf lessons
2 yoga classes
BBQ braai with live music
Private safari trip
Boat cruise & wakeboarding
Professional guides
Wet suit & surf board
The surf camp is located at the beach
Surf one of the world's best waves
Direct access to the beach via a boardwalk
Sunset & sunrise on the yoga deck
Common kitchen to cook together
Large swimming pool, jacuzzi, sun terrace and panoramic ocean views
Happy surf mates!
"I had found my next bucket list item... I wanted to
learn how to surf!

Rachel John
The 22-year-old Rachel John is a influencer from Amsterdam. And through her social media channels she shared her surfing holiday to South Africa in 2021. This trip was so cool that she wanted to share this experience with everyone who likes it. RAJO'S Surf Camp was born from this idea.
14/06/2021 - Diary Rachel John
Two months ago, I had a campaign shoot where I had to surf and as you know, I was terrible at it. Even though my first attempt at surfing failed completely, the ocean and the waves really attracted me. I had found my next bucket list item: I wanted to learn how to surf. Through Oak Travel I booked a Surflodge where I could stay and take surfing lessons. Never I had traveled alone before and now I even went to the other side of the world. So exciting, but I survived.
The past few days have been fantastic. Wake up every day at sunrise and start my day in the ocean without distractions. I have never felt so free and unfettered. Dare to say yes to things which I normally don't do. I feel happy. Never I experienced a feeling like this and wish I could share this feeling with more people.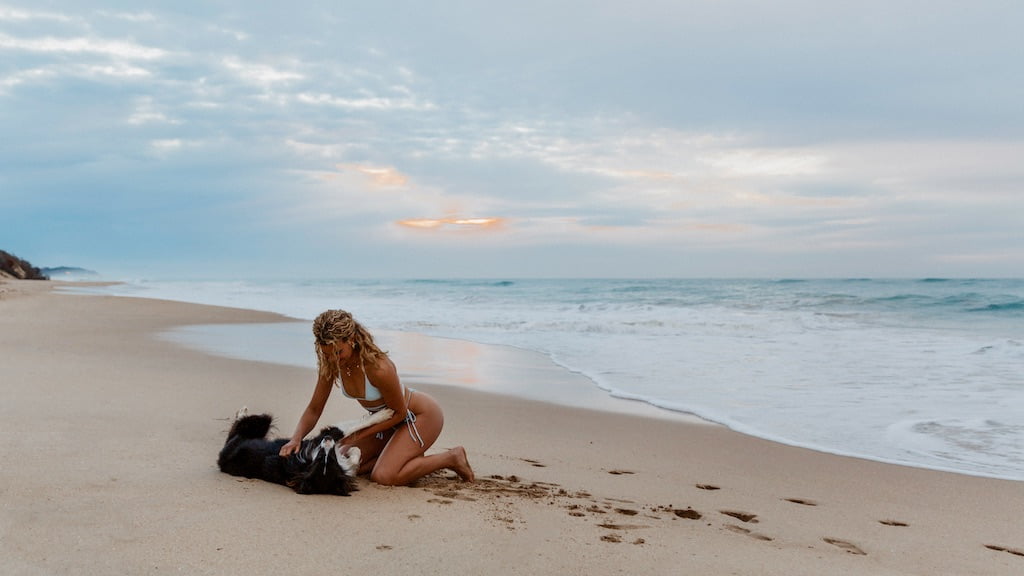 Suite with bathtub and panoramic view from the balcony
Welcome to the private suite, the most luxurious room in the SurfLodge. This generous space is filled with sunlight all day long and offers breathtaking panoramic ocean views.
The private ocean view balcony invites you for a morning coffee or enjoy a balmy evening watching the sun disappear on the horizon. And the bathroom has a luxurious bathtub, perfect for sinking into after a long day of surfing.
Enjoy a great view from your private room
The en-suite double room is a cozy loft-style open-plan room with spectacular views of both the ocean and the expansive countryside beyond. Wake up to natural light flooding the room before tucking into breakfast and surfing.
With its luxurious king-size bed and open bathroom, the room is the perfect oasis to relax in after a long day of surfing.
Start dates
You can inquire about the start dates of the upcoming surf camps through Rachel's Instagram page.
Prices per surf camp
Shared dorm room – €1500.00
Private room with shared bathroom – €1620.00
Private room with a view – €1750.00
Suite private room with balcony – €1800.00
What's not included?
Flight tickets
Airport transfers outside start and end date
Travel insurance
Lunch
Visa (if required)
Travel vaccinations
Optional activities
Meals for specific dietary requirements other than vegetarian
(possible additional costs)
Will Rachel John also join the surf camp?
Yes! Rachel John will be present during all surf camps in Jeffreys Bay.
What is important to bring?
A big appetite, swimsuit, sportswear, beach towel, sunscreen with a high factor, anti-mosquito spray, cap, sunglasses and of course a camera. If you're looking for a comprehensive list, check out this packing list so you won't forget anything.
How is the airport transfer arranged?
The transfers from and to the airport are included on the start date and the end date of RAJO'S Surf Camp. Before departure, make sure to send us your flight schedule so that you can be picked up by a member of staff on arrival at Port Elizabeth airport. On the last day you will be dropped off back at Port Elizabeth airport.
When is my registration final?
As soon as the registration period is closed, it will be announced which participants can definitely come to South Africa. There are 16 spots available in the surf camp. After the announcement, each participant receives the invoice for the booked room, when this has been paid, the registration is final.
From what age is registration possible?
Anyone who is 18 years or older can register for the RAJO'S Surf Camp in South Africa. The average age of the participants is between 18 and 28 years.
Which meals are included?
At RAJO'S Surf Camp in Jeffreys Bay, breakfast is the most important meal of the day. That's why a healthy selection of options is prepared every morning. And the food always tastes good on the terrace under the morning sun.
In addition to 9 healthy evening meals, the surf camp also loves traditions, so the South African Braai (barbecue) cannot be missed. A great night to socialize, have some beers and share all your surfing stories. Do you have special dietary requirements? Please let us know during registration. Vegetarian is included in the price, other dietary requirements will be discussed.
Where is the surf camp located?
The surf camp is located almost in the middle of South Africa, along the coastline of the Garden Route. A great place for a surfing holiday as many events take place in and around Jeffreys Bay. Live music, big DJ parties, local markets and various surf competitions.
Jeffreys Bay is a surf town and has many nice clothes shops selling designer clothes and surf equipment at very reasonable prices. Paradise Beach is where you go surfing. As the name suggests, it has fine grained white sand beaches stretching as far as the eye can see. As you walk along this coastline, you may be able to spot dolphins and possibly whales.
Do I need travel insurance?
Yes, make sure you have good travel insurance. You can apply for Allianz travel insurance at a discount and make sure that you are covered for 'dangerous sports'.
Rachel's Surf Trip? In one word: AMAZING 🤍 it's the best experience I've ever experienced: good vibe, relaxed people, fun activities, the best surfing lessons ever, etc. Everything was top notch and you were free to do all the extra activities that were there, nothing was obliged to do! It was really the place to do things that you normally wouldn't do, but because you are with a really nice group you go through it together and you all have a lot of fun!

@Sabinefit
What an incredibly beautiful and special experience this surf trip was!! Besides getting to know new people, I also conquered many fears and got a little closer to myself. You were free to come and go, nothing was obligatory. The extra activities were all worth participating in. Thoroughly enjoyed the whole trip!

@Jillbreukers
I had a very nice time with Rachel and all the girls I met on the trip. The stay was also super nice and there was a homely atmosphere. The people who work for the surf lodge and surf school are great and will make you feel comfortable. There is also a wide choice of activities that you can do, such as skydiving, horseback riding and much more. Personally I have nothing bad to say because I had such a good time. I definitely recommend it and if I get the chance I would definitely do it again!!!

@jilldeelen
It was an incredibly special experience to go to South Africa with a group of (still unknown) girls and meet Rachel. In Africa you really get the chance to do things outside your comfort zone! Personally I look back on a very valuable journey and I am also very grateful to have been given this opportunity 💛

@Pammroes
It was an experience I will always remember! I have met wonderful people, conquered fears and found peace. There is no place where you come alive more than in South Africa! Rachel's Surf trip gave me the chance to get even closer to myself and I would definitely want to experience it again!

@Lamyadelic